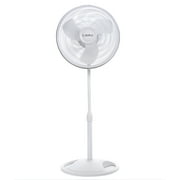 Enjoy a cool breeze in every room with the 16-inch Oscillating White Stand Fan by Lasko. It is great for use in stores, offices, classrooms, health clubs, homes and more. The generous 16-inch diameter blade provides a powerful flow of cooling air that is adjustable to three speed settings. With its flexible, tilt-adjustable fan head, you can set this pedestal fan to blow the air up towards the ceiling. This creates air circulation throughout the room, with a gentle breeze that doesn't necessarily blast you in the face. The wide angle oscillation ensures that all corners of the room are covered.The fully-adjustable height enables you to adjust it for any member of the family. This fan is easy to assemble, is made of a durable metal, and even comes with a 1-year limited warranty. Enjoy style and performance of a stunning fan with the 16-inch White Stand Fan by Lasko.Lasko has been engineering and building great-looking, high performance home comfort products in the U.S. and around the world for more than 100 years. The company has grown to an international organization and market leader in portable fans and ceramic heaters including room fans, high velocity fans, ceramic, low-profile heaters and many more.
Widespread oscillation
Fully adjustable height
Tilt-back feature
Simple no-tools assembly
Easy grip manual control
Includes a patented, fused safety plug
ETL Listed for product safety
Cord length: 727 inches
Customer Reviews

Love my new fan.
16" fan
I bought this for my son because I had previously bought a bigger version and his room is smaller and he loved it. It's was a perfect size and Brand for what I was searching for. Its very sturdy and has 3 speed for u to choose from. I highly recommend this fan.LuckyLeeLee
Quiet, Soft to Powerful Breeze - My Lifesaver
We don't have our a/c on yet, which is saying something in South Florida. With no ceiling fan, I needed something that would cool me and my 3 dogs in my bedroom in the evening. This fan has been a lifesaver. It gives me just the right amount of wind when I need it and is quiet and doesn't interrupt my sleep. When you take it out of the box, it appears flimsy, but that is deceiving. It is well worth the money.Doggiegramma
You may also be interested in