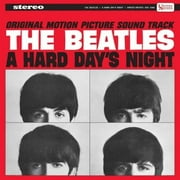 Digitally remastered edition of this 1964 U.S.-only album from the Fab Four housed in a replica mini LP sleeve. The artwork includes all aspects of the original artwork right down to the inner sleeve! The U.S. albums were either condensed versions of their UK counterparts or were albums created for the U.S. market consisting of stray album tracks and singles. In this case, the U.S. soundtrack includes tracks performed in the film by The Beatles as well as incidental orchestral music from the film.
Customer Reviews
Amazed at sound quality
Album art super high Fidelity sound in this CD series. Super rich sound! I had the old CDs from the early 90s which werent. Very good. But the sound is absolutely terrific on these newer CDs and the album art is also amazing. Good price tooDebra
Yeah! Yeah! Yeah!
Classic early Beatles.You can't go wrong!!Franklin
Great release!
It is fun to have a CD version that copied the original Lp release. It reproduces the original Unite Artists Black Label with a plastic sleeve and paper sleeve as the original Lp would have had.
You may also be interested in